Thank you to those who entered the Live Laugh Love Swarovski Crystal Bracelet Giveaway for Sandi's Fight Giveaway.
The winner drawn by Random.org will receive a beautiful bracelet from Belly Charms.
I had promised to make a $0.25 donation for each individual who entered the giveaway. However, I am sad to say, that the giveaway had less than 50 individual entries (this count does not include additional entries).
The original donation amount based on the number of entries should be $21.75 ($11.75 from entries and a $10.00 starting point from me).
It has been decided by the powers that be, that we will donate the entire $100.00 that we had hoped to reach initially.
We hope that Sandi continues her fight and we will continue to support her cause in whatever way we can!
To read more about Sandi's Fight: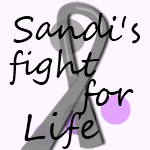 Remember, any item purchased from the Affirmation-Inspiration Collection supports Sandi's Fight
If you would like to purchase the Live Laugh Love bracelet on your own, Belly Charms has graciously provided a 10% off discount code: Use the code LIVELAUGH
Shipping is also free. Code is good until 9/15/10
To Make a Donation of your own, Click here: