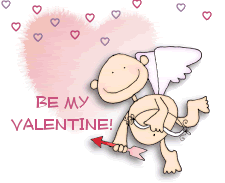 There are so many ways to say "Be Mine" on Valentine's Day.
I would love to do something unexpected and special for Hubby, but I am unsure as to what it may be.
We can never top our Best Valentine's Day ever.
Luke (8) was our IVF baby conceived in a Pitri Dish on 02/14/02.
But it was far from romantic
The t-shirt, the massage, the gifts... They have all been done..
Being that this year, Valentine's Day is a Monday, we'll be busy with work, school, CCD, & the kids..
What have you done with that special someone on Valentine's Day?
Any suggestions?
I need a wonderful way to say

To the man I have loved for over 20 years.