Luke and Anthony received a great toy from
educational Toys planet
. It's their
Quercetti Super Marble Run Vortis
. 220 pieces in this marble run set makes for imagination to take hold of them and create tracks. Well, for me to create the tracks they think of mostly.. It has been easier for me to keep the 2 year old at bay while building the track because he barrels over the older boys when they try to build. They have accomplished a couple when the baby has slept.
I had no idea the amazing variety in
Marble Runs
offered in general.
The pieces are make well and i even stepped on one (not my full weight) but it didn't break. The only 2 smaller pieces are marbles, and then some yellow attaching pieces for the big yellow spiral.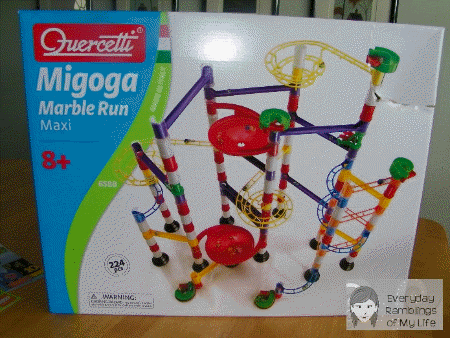 The boys are creating new tracks and I love watching them. Their engineering skills are sharpening, cause and effect actions are taking place and they are fascinated.
Here is the first ones we built
Luke (8) and Anthony (5) are loving having a blast using this toy, creating new tracks, and watching them do this is amazing!
Disclosure: We received this Marble Run toy for product review purposes. All opinions expressed are my own and that of my children. No monetary compensation was received for this item or the review.