Today was a nice quiet stay at home day for CJ (2) and I. We played, read, watched videos and played Plants Vs Zombies on the itouch. Luke & Anthony have camp all this week (9-4) so no big brothers during the day.
While doing some facebook work, I hear his little vacuum going.
He has decided to clean up around the boys little table where they eat breakfast and snack.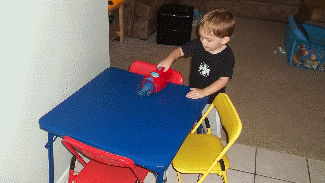 He dust-busted the crumbs from the table and then pulled the chairs out and vacuumed underneath.
Yes, the vacuum does really work.. so we've emptied the crumbs out.. I love when they help without being asked too...
Minus the tantrums, I love this age !