Hubby emailed me this afternoon, asking me if I were up for a project..
Through his work, he has the opportunity to win an Android OS Tablet.
Sometimes his employer does fun little things and today was one of those days.
Each sales team was provided a kit consisting of 1 generic barbie, 2 pieces of felt, stick on crystals, puffy paint, ribbon, and tulle. You could use as much or as little as you wanted.
He also had to write a "pitch" about the products, which was all him!
Oh, and he has to bring it in TOMORROW (Wednesday)
2 hours later, we have ANDROID GIRL!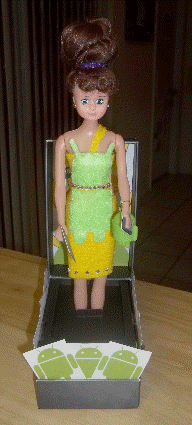 Android girl is stylish in her yellow felt dress with green Android applique. She dangles an Android Handbag and carries her HTC Android Tablet and Samsung Charge. White swarovski crystals accent her waist and the hem of the dress, as well as her ears.
Purple swarovski crystals adorn her beehive hair-do.
She is perched in [my] Samsung Charge phone box with Android decorations and the shadow box is the sponsors for hubby's contest.
He turns this in tomorrow and they will narrow it down to 5 of the entries..
These 5 will give their "pitch" and 3 will win either a smartphone or an Android Tablet.

I know hubby will be keeping this tablet, so no chance of a giveaway.. Sorry