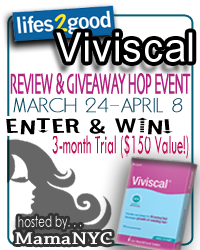 Welcome to the

Viviscal Review and Giveaway Hop Event

!
Along with
MamaNYC,
I am
hosting this event, with 24 bloggers.
Follow us as we share our journey over the next 3+ months and see how Viviscal helps us with hair growth, nourishment, repair, and damage control!
I am excited about taking part in this 3 month trial. My
thinning hair
had accelerated since my last child was born. It just comes out constantly. I have been taking this product less than a week and my
hair loss
has already slowed down. I am hoping that I can see some prominent hair growth within the next few months. I will be doing a follow up post on my results in mid-June 2012, as will all of the other bloggers. I am excited to see everyone's individual results!

Now, for the Best News
Viviscal is going to give away one 3 month Trial of Viviscal (a $150.00 Value) to one winner,
ON EACH BLOG !!
This giveaway is going to run from March 24th through April 8, 2012 @ 11:59PM (EST).
Open to residents in the U.S. only; 18+.
NOTICE:
All participants are encouraged to hop down the linky list below the Rafflecopter widget! 25 bloggers are each giving away 3-month trials of Viviscal. You will only be eligible to win on ONE of our blog giveaways. However, I hope you will finish all our giveaways because the MORE giveaways and entries completed - the BETTER your chances will be at winning! It's better to be the selected winner on five of our giveaways instead of none! Once you are selected as a winner from one of these blogs, you will receive a winning email and all set to receive your prize!
Disclosure:
This post is part of a review and giveaway event hosted by
MamaNYC
in conjunction with
Lifes2good
. I have received a free promotional 3-month trial of this product in order to compose and share an honest review based on personal experience. No monetary compensation was received for my review and all opinions on THIS blog are my own.