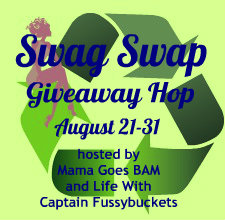 Welcome to The Swag Swap Giveaway Hop
This is a special event to thank you our readers, and your chance to get your hands on some of the best swag from some of your favorite bloggers.
The event begins at
12:01 AM August 21
and ends
11:59 PM August 31.
I have an eclectic mish mash of items in my Swag Swap Giveaway
1 US Winner will receive:
1- 1.0 fl oz Exuviance Optilight Tone Corrector
1- Kiss Nail Dress Fashion Strips (leopard)
1- Nozin Nasal Sanitizer On The Go Pop Swabs
1- Nozin Nasal Sanitizer Moisturizing Antiseptic (swabs)
2- Ecover Zero Natural Laundry Powder
1- Charm It! Butterfly Clip
1- Compliment Quotient "You are Amazing" Pendant and chain
1-Yum Yum Time Plate and Snack Bowl with cover
Visit more blogs joining in on the fun!