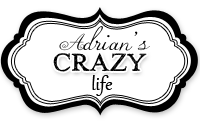 I was reading an blog post on Adrian's Crazy Life and loved it so much, I wanted to make sure you read it too.
The basis is about de-cluttering your life. Some of it is geared towards material possessions, some towards behaviours, but really, can be applied to anything in your life.
The post is called: Clutterbugs: My Top 5 Motivational Ideas
They say it takes 30 days to change a habit and begin a new one.
I'm working on my change!
If I don't get into shape, I am going to highly embarrass myself during my 1st 5k in August!!!
I'm loving Couch to 5K !!!