Disclosure: My family & I were guests of Cedar Point. All reviews, photos and videos taken by myself or my family are property of EDROML. Thank you to MPM B.E. for allowing us access to Cedar Point for 2 days.
What an amazing vacation!
If you are a lover of all things Peanuts and Roller Coasters, you have to plan a vacation/trip/outing to Cedar Point in Sandusky Ohio.
My family and I have been planning this vacation since last summer.
This was a dream vacation for my hubby, as he loves all kinds of Roller Coasters.
Each staff member we encountered from Guest Services to the shops and restaurants, were friendly. Even on Friday evening, in the rain, not a guest nor employee looked cross.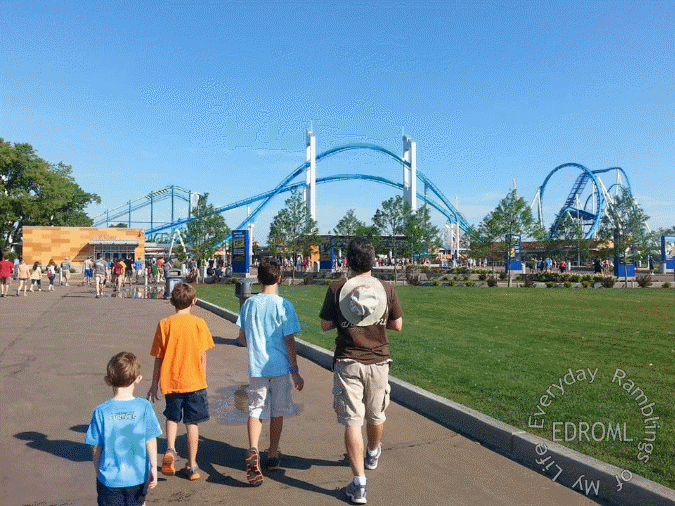 GateKeeper, the newest ride, was 1st on the list. I think that was the case for almost every coaster enthusiast who entered the park!
See what the boys had to say..
We then ventured to Wicked Twister. Anthony had no desire to go on this one, but Luke was excited ! Check this ride out !!
Day 1 at the park came to an end early. The rides shut down due to weather.
We returned to the park in the evening, to enjoy the rain :(
However, Day 2 was a different Story!
The other ride we wanted to showcase for you was the Top Thrill Dragster.
This was a favorite and I could not believe the line for this ride.
There were some rides I just couldn't get video of.
Let me give you a rundown of some of the comments made about various rides.
Mean Streak: The wooden Coaster - It rattled my brains (hubs)
MagnumXL - Can we go again ??
Blue Streak: Fast, happy the rails were steel
Maverick - EPIC !! AWESOME! They rode it twice !
There were rides we didn't have a chance to ride due to the weather on the 1st day and then the lines on the 2nd day. The Raptor was one of them. The line had a 2 hour wait on the 2nd day.
Christopher enjoyed Kiddie Kingdom and all the Peanuts themed rides
perfect for the younger theme park go-ers.
We had lunch on the 2nd day at Pinks of Hollywood.
The hot dogs were delicious. Hubs never eats them, but he was excited to try
the Mullholland Drive Dog. He finished the whole thing !
We played games, shopped for souvenirs and gifts, and yes,
even purchased the photo taken at the entrance of the park.