This post was created in partnership with America's Farmers. All opinions are my own.
I did not grow up on a farm, even though I did spend a good deal of my childhood in country. We did not farm but had several around us and had friends whose parents lived a farm life.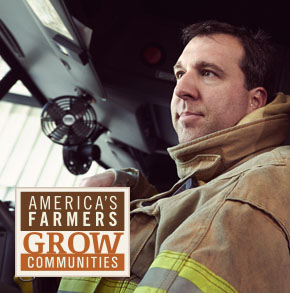 America's Farmers give us food and materials to create wonderful products. But do you know the farm life?
After reading over several family stories, I found myself coming back to one. The

Hemmes Family. When you think of a farming family, do you see Dad in the fields and Mom baking pies and hanging laundry?
Well, the
Hemmes Family is not your typical farm family. April
Hemmes is a 4th generation farmer. April's Husband works in town and April runs the farm. She IS the farm. April raises cattle and harvests grains. She takes care of day in/day out decisions and her family as well.
April is not only helping those here in the US with her profession but abroad as well. April traveled to Uganda as part of the Farmer to Farmer exchange coordinated by The Iowa State University [Extension] a
nd
Outreach Global Program, in collaboration with the Center for Sustainable Rural Livelihoods (CSRL) in the College of Agriculture and Life Sciences at ISU, and VEDCO, a non-profit organization based in Uganda. The program teaches African women how to improve farming and have greater product.
For all that she does to help women abroad, April still makes time to help not only her daughter, but also her community. April helped to form Iowa Women in Agriculture and served as their 1st president. She is a leader in 4-H and serves on many other boards (i.e.
county hospital board, county soil and water commissioner, township clerk, Iowa 4-H Foundation board)
My mom was not a farmer, but she was a tough woman. I chose to tell you about The Hemmes family because April reminds me of the strong woman my own Mom was.